About the Author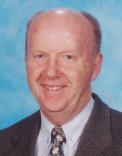 Vincent Crow has lived in Haberfield for most of his life. In 1974 he began the campaign to create a Haberfield Conservation Area by writing to the National Trust to gain recognition of its heritage significance. From then the campaign was conducted through the Ashfield and District Historical Society.
Tours of Haberfield for local residents and for members of historical societies were conducted, talks to historical societies and other community organisations were held, Ashfield Municipal Council meetings were attended to monitor building applications etc. and a photographic record of architecturally and historically significant buildings was begun. These activities were supported by research into Haberfield's history and by many residents who allowed their homes to be photographed and also opened for tours.
In 1979 the recently-established New South Wales Heritage Council was informed of Haberfield's character and the need for its conservation. In the following year the National Trust of Australia held its first tour of Federation Haberfield largely due to the initiative of Caroline Simpson, a member of the Historic Buildings Committee.
Vincent Crow was a foundation member of the Haberfield Association which was formed in 1980 to support the creation of a Haberfield Conservation Area. As a result of these activities, in 1982 Ashfield Municipal Council adopted conservation guidelines for future development in Haberfield. In 1985 all of Haberfield was gazetted as a conservation area by the State government. In 1990 it was listed on the Register of the National Estate.
In 1994 Vincent Crow was awarded the Medal of the Order of Australia "for service to heritage conservation". In 2003 he was awarded a Certificate of Appreciation by the New South Wales State government" in recognition of an outstanding contribution to heritage conservation in New South Wales".