Haberfield's Heritage Significance
Haberfield's heritage significance lies in its tripartite character incorporating:
1. The Garden Suburb concept which made Haberfield a model for suburban planning- Haberfield was Australia's first planned Garden Suburb.

2. Federation and, to a lesser extent, Californian Bungalow and inter-war styles of architecture; Federation style itself incorporated and reflected contemporary international architectural styles such as English Arts and Crafts and Queen Anne styles, American Shingle style, and European Art Nouveau as well as echoes of Oriental architecture.

3. Australian nationalism in the early 20th century in the use of designs based on Australian motifs and of names of contemporary Australian identities; the principal political event of this period, Federation in 1901, gives its name to the contemporary architectural style.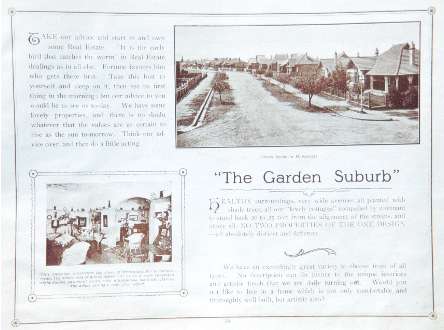 Most streets in Haberfield reflect the first of these, the GARDEN SUBURB concept, in the following attributes:
(a) Wide street- enough room for two-way traffic and parking of cars/buggies;

(b) A 'nature strip' dividing the roadway from the footpath;

(c) One residence per block of land with a street tree in front of each;

(d) Blocks of land at least 50 by 150 feet (15.25 x 45.72 metres)- enough room for the laying-out of a good-sized garden;

(e) Separate zones for residential and commercial areas with no encroachment by secondary industry.
While these features are fairly commonplace today, they were quite innovative in 1901 and in fact Haberfield was Australia's first planned Garden Suburb.
In summary, Federation-style architecture found in Haberfield has the following features:
Roof:

Gabled, high-pitched made of slate or terracotta tile and surmounted by terracotta ridging with finials; tall chimneys.

Walls:

Bare tuck-pointed bricks often of two tones.

Windows:

Double-hung or casement; use of leadlight; quite often bay windows; use of fanlights of coloured glass.

Doors:

Use of leadlight in upper part of door with or without a leadlight surround.

Verandah:

Across at least part of the facade, sometimes a `return' verandah; turned or planed timber posts with decorative timberwork; floor of patterned tiles.

In General:

(a) Usually asymmetrical design;
(b) Art Nouveau influence evident in the flowing, curving designs of leadlight, tiles and timber fretwork;
(c) Nationalistic representations both within and on the exterior of the house.
Haberfield is the only 'Federation-style' suburb that has remained substantially intact without any major encroachments to alter its character. It has a vast array of Federation houses.
In 1978 the National Trust stated in its reasons for listing conservation areas in Haberfield:
"The proposed areas are of interest for their fine individual houses, gardens and public tree planting; most elements of Federation style domestic architecture and residential planning are to be found in good condition. The southern area is distinguished by the Art Nouveau detailing of upper shop fronts, and by two churches which form land marks on the Dalhousie Street ridge."
In 1990 Haberfield was entered on the Register of the NATIONAL ESTATE. In its 'Statement of Significance' the Australian Heritage Commission stated:
"Haberfield was Australia's first comprehensively planned and developed Garden Suburb, establishing a model for Australia's suburban development in the 20th century. Astutely conceived and promoted by Richard Stanton, a Summer Hill real estate agent and former Mayor of Ashfield, Haberfield comprised individually- designed, locally-adapted Queen Anne style houses, set along tree-lined streets, which were antithesis of the unhealthy crowded inner city suburbs. Haberfield's significance derives from its successful adaptation of the Garden Suburb idea, and the architectural quality of its houses related in style and character, but carefully individualised in form and detail."